Mooresville Covered Porch
Mooresville Covered Porch and Open Patio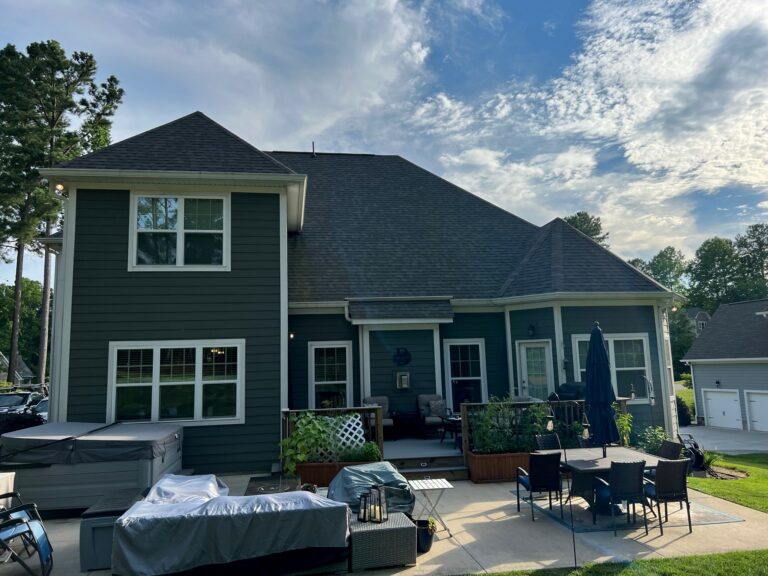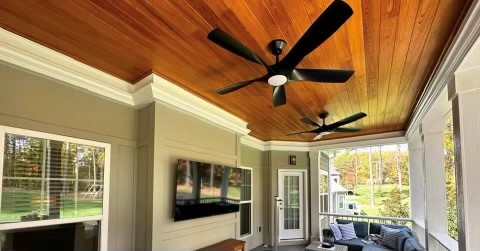 A Mooresville client wanted a covered roof over their existing deck for the shade as well as an area with the feel of an outdoor room but without screens or windows. The scope of work was extensive, including re-directing the existing fireplace vent pipe up, framing a shed roof porch, matching roof shingles, electrical wiring and rope lighting, chunky headers, wrapped columns, removing all the house siding and replacing it with a board and baton wall, low maintenance drink rail… all finished off with an upgraded cypress ceiling with a step-down perimeter detail, mini crown, dropped crown and a packed out house cornice.
JAG also replaced the can lights on the front porch with fans, removed the vinyl ceiling on the front porch and replaced it to match the new back porch, added a TV bracket and installed the TV. We also fixed the old, thin and waving end of deck lattice with new heavy-duty lower deck skirting.
This porch is done and ready for a Fall football game party!
If you are ready to build an outdoor living space that matches your lifestyle and home, call JAG for a quote!