Charlotte Construction Contractor Remodeling & New Home Builder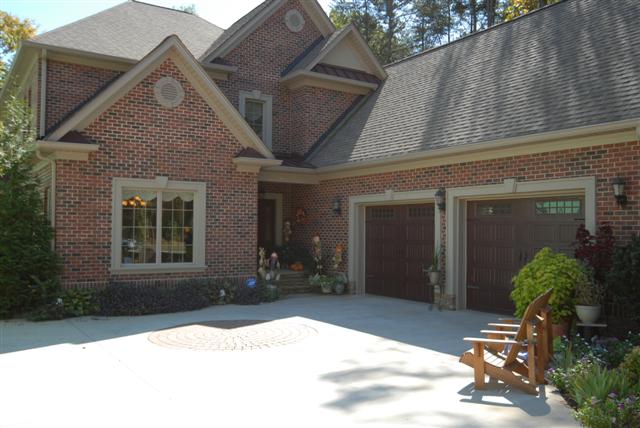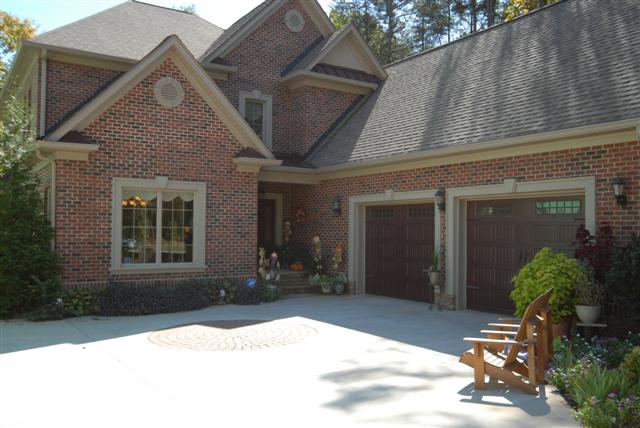 Charlotte is a familiar spot for JAG Construction Corp.  Before telling you about JAG, an award winning Home Builder and Remodeling Contractor, and our construction contractor business, we would like to extend a little about the town for those considering relocating here.
Charlotte is the largest city in North Carolina.  The city was founded in 1768 and named after Queen Charlotte the wife of King George III.  Charlotte has a nickname "Queen City" which came from Queen Charlotte Sophia of Mecklenburg-Strelitz.
Charlotte is rapidly growing with 1.5 million in population and the 17th largest city in the nation.  The cost of living in Charlotte is 9% less than the national average, has a low crime rate and an ample amount of employment opportunity making it an attractive place to live.  Our housing market in Charlotte is 23% below the national average making it another attractive area for families to live.
Charlotte is well known for its major contribution in the US financial markets as the second largest banking city behind only New York City with such banking employers as Bank of America and Wells Fargo.  Some of our local employers include Lowes, Family Dollar, Chiquita, 75% of all of the NASCAR industry and more than 10 of the fortune 1000 companies.  The international airport in Charlotte is also a large employment resource with airlines like American (formally US Air) being their major hub.  Charlotte also hosts players in the world of sports like the Carolina Panthers, Charlotte Hornets, Charlotte Knights and of course the NASCAR Hall of Fame.
Some of the popular areas to live in Charlotte are Myers Park, Dilworth, Foxcroft, Ballantyne, Highland Creek, Midwood and Cotswold.
A personal fun fact about Charlotte is John's daughter Ashley was born at Carolina's Medical Center in Charlotte.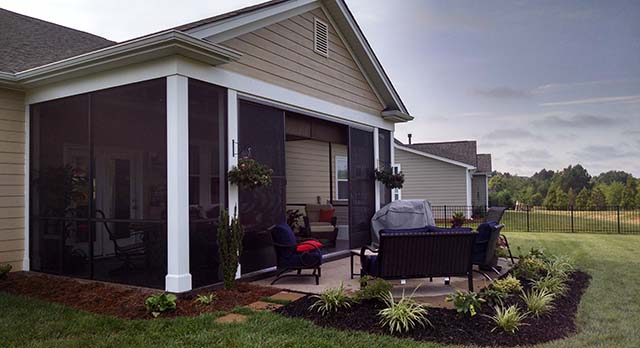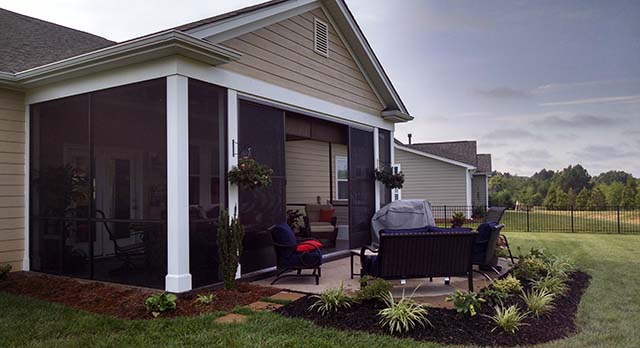 JAG Construction Corp loves to work within the neighboring towns and wants to be your Remodeling Contractor or New Home Builder.  Our primary services consist of Kitchen & Bathroom Remodeling, Sunrooms and Additions or New Home Construction.
In the above pictures, the first is a beautifully built screened porch and open patio with features including stamped concrete, crown molding, James Hardi siding, extruded aluminum screening system and an EZE quad slider. The second picture is a beautiful custom brick home for a retired Navy captain and his wife that included many upgrades like a screen porch, outdoor living space and an elevator.
Our desires are to have not only a result of your dreams, but also a relationship for you to enjoy.  Here are what some of your Charlotte neighbors have to say about working with us.
"I am not one who usually writes reviews of any kind. But I am making this exception because of the excellent customer service I received from JAG Construction on three projects for my home. The three projects consisted of a sunroom addition, closed foyer with French doors, and custom bookcases for my office. I contacted and interviewed four different contractors before signing with JAG. While the prices were often competitive, the customer service and quality of the work performed was unparalleled. JAG construction is a professional company that makes you a part of the process from beginning to end. From the blueprint to the timetable for completion, they work to please you. I am particular about where I spend my hard earned income and the JAG "hit it out of the park" every time. They stand by their work and will always be my first choice for new projects in the future. I highly recommend them to others who value excellence in service and construction."  – Gerilyn D
"We are extremely happy with our screened in porch and our beautiful pergola. The design and craftsmanship are superior. We enjoy our home, but the screened porch and pergola have added a dimension that has surpassed our every expectations to enjoying the outdoors during warm sunny days and evenings."  – Rick and Anna
Recently a new resident moved to town and here we helped them with their new Charlotte Bathroom Remodeling needs.
Please review many of our other satisfied customer testimonials that we hope you will be a part of.
Please contact JAG, your local Remodeling Contractor & New Home Builder today.