Huntersville Construction Contractor Remodeling & New Home Builder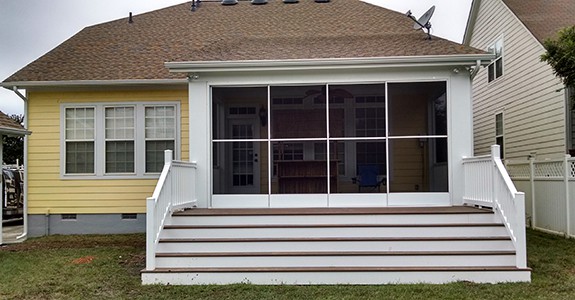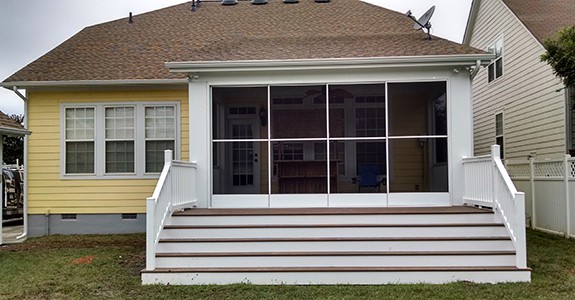 Huntersville is a familiar spot for the family of John Crowley of JAG Construction Corp.  Before telling you about JAG, an award winning Home Builder and Remodeling Contractor, and our construction contractor business, we would like to extend a little about the town and our personal connection.
Huntersville, the first Lake Norman town north of Charlotte in Mecklenburg County was named in honor of a major landowner and cotton farmer Robert Boston Hunter.  Huntersville was incorporated in 1873.  For any history buffs, Huntersville was the location of the Battle of Cowen's Ford in 1871 during the American Revolution and the original site of the battle lies under Lake Norman.  Huntersville has the oldest standing store in Mecklenburg County; The Hugh Torrance House and Store.
A popular tourist site in Huntersville is the historic Latta Plantation, a 52 acre plantation that offers a personal glimpse into the life of local merchant James Latta.  The 50,400 residence of Huntersville makes it the 19thlargest municipality in North Carolina.
Some of our employers in town include SABIC Innovative Plastics, Rubbermaid, Irwin Industrial tools, ABB Cable, PACTIV Corporation, Max Daetwyler Corporation, American Tire, Novant Health Medical Center, Metrolina Greenhouse and Joe Gibbs Racing.
A little personal fun fact is that John Crowley's son Jake was born in the Novant Health Medical Center in 2006.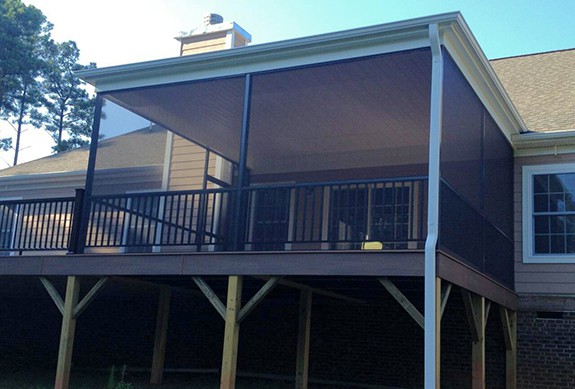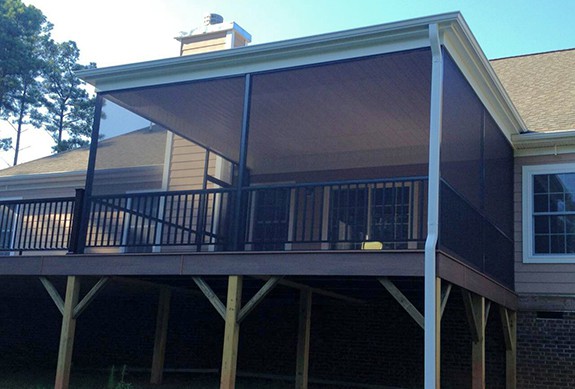 Our favorite attraction in Huntersville is Birkdale Golf Course and Village.  Birkdale is a mixed use community for live/work/play.  Birkdale has an 18 hole golf course, shops, dining and a movie theatre.   Another fun fact for Huntersville and Birkdale is it's the location of John and Gail Crowley's wedding at the Birkdale Golf course pavilion in 2002.
JAG Construction Corp loves to work with its neighbors and wants to be your Remodeling Contractor or New Home Builder.  Our primary services consist of Kitchen & Bathroom Remodeling, Sunrooms and Additions or New Home Construction.
In the above pictures, the first is a new open deck with full length stairs.  In front of it is a new screen porch including PVC Azek decking, PVC handrails, extruded aluminum screen system and a EZE Breeze quad slider onto the open deck with full length stairs.  It also included can lighting, an outdoor TV, chunky PVC posts and outdoor furniture all provided by JAG Construction.  The second picture is a custom screen porch and open deck by including FiberOn decking, FiberOn skirt boards, Deckorators handrails, an outdoor TV and extruded aluminum screening system
Our desires are to have not only a result of your dreams, but also a relationship for you to enjoy.  Here are what some of your Huntersville neighbors have to say about working with us.
"Right from our first visit with John, we were impressed by his honesty, innovative ideas and his flexibility. We hired JAG to complete a screened in porch and deck addition. The standard of work exceeded our expectations, but above all the level and quality of communication throughout the project was excellent. We are enjoying our new addition and have already engaged with JAG for our next project."  Greta and Paul H.
Please review many of our other satisfied customer testimonials that we hope you will be a part of.
Please contact JAG, your local Remodeling Contractor & New Home Builder today.